We've moved!
Izu Hike's staff have moved to Fuji Five Lakes to focus on our business offering guided hikes to the summit of Mt Fuji, as well as bike tours and winery tours in the mountain's foothills. Find us there at www.fujibiketour.com.

Although we will be located too far away to continue offering Izu Hike's single-day tours, we would be happy to meet requests for multi-day hiking and biking tours in Izu. If you're interested in a multi-day tour in Izu, contact us.
---
Coastal Vistas Hike
Difficulty:
Easy
Duration: 2 to 3 hours
Length: 5 km (3 mi)
Terrain: Forest paths and rocky shore
Elevation gain: 150 m (500 ft)
Trailhead elevation: 5 m (15 ft)
Summit elevation: 45 m (150 ft)
Shade: Mostly full shade, with some segments in full sun
Accessible seasons: Year-round
Camping allowed: No
Departs from: Ito City
Transportation to trailhead: Train (or car or bike, if you own or rent)
Guide fee: ¥3,300/person for 3 or more people, ¥4,950/person for 2 people or ¥9,900 for 1 person
Other costs: Train fare (¥1,320/person round trip from Ito Station)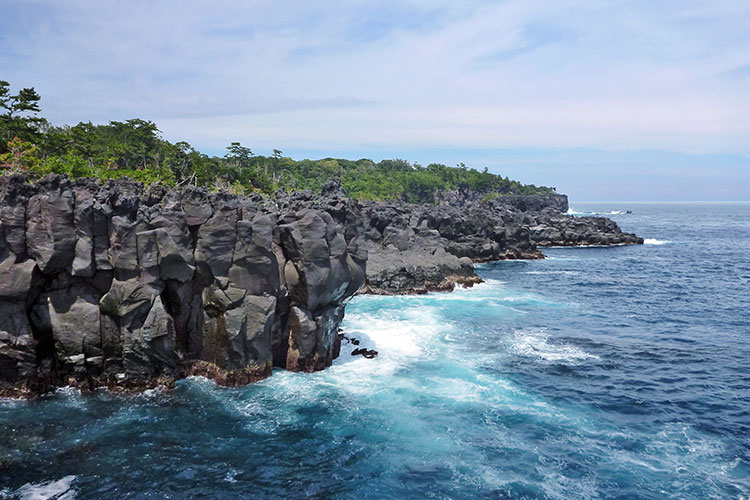 Description: Explore pine forest-topped seaside cliffs, fields of unique stone formations and paths that run through lush belts of jungle. Cross a suspension bridge high above a wave-carved canyon and follow the sinuous channels of ancient lava flows to a seaside temple. Walk remote beaches where the surf explodes against towering boulders and vast, colorful tidepools foreground sweeping views far up the Izu coast.
Photos from the Coastal Vistas Hike