We've moved!
Izu Hike's staff have moved to Fuji Five Lakes to focus on our business offering guided hikes to the summit of Mt Fuji, as well as bike tours and winery tours in the mountain's foothills. Find us there at www.fujibiketour.com.

Although we will be located too far away to continue offering Izu Hike's single-day tours, we would be happy to meet requests for multi-day hiking and biking tours in Izu. If you're interested in a multi-day tour in Izu, contact us.
---
Mountain Lake Hike
Difficulty:
Moderate
Duration: 4 to 6 hours
Length: 13 km (8 mi)
Terrain: Forest paths and country roads
Elevation gain: 550 m (1,800 ft)
Trailhead elevation: 650 m (2,100 ft)
Summit elevation: 1200 m (3,900 ft)
Shade: Mostly full shade, with a few segments in full sun
Accessible seasons: Year-round
Camping allowed: Yes
Departs from: Kawazu City
Transportation to trailhead: Bus (or car or bike, if you own or rent)
Guide fee: ¥4,500/person for 3 or more people, ¥6,750/person for 2 people or ¥13,500 for 1 person
Other costs: Bus fare (¥1,600/person round trip from Kawazu Station)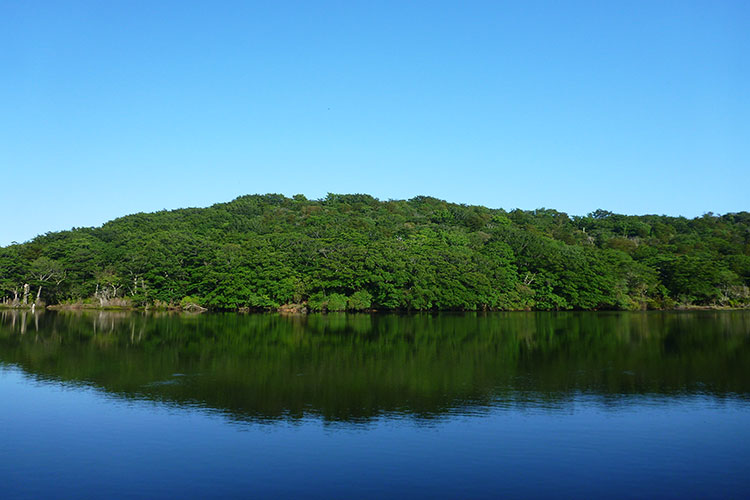 Description: Ascend through evergreen forests and past waterfalls as you explore the wildflower-dotted foothills of Izu's highest peak. Sweeping views of undulating jade mountain ranges and, on a clear day, a glimpse of distant Mt. Fuji await. Have lunch beside a tranquil lake whose mirrorlike surface reflects the trees and sky. Then wind your way back down the mountainside, accompanied by the soothing trickle of a trailside stream.
Photos from the Mountain Lake Hike