We've moved!
Izu Hike's staff have moved to Fuji Five Lakes to focus on our business offering guided hikes to the summit of Mt Fuji, as well as bike tours and winery tours in the mountain's foothills. Find us there at www.fujibiketour.com.

Although we will be located too far away to continue offering Izu Hike's single-day tours, we would be happy to meet requests for multi-day hiking and biking tours in Izu. If you're interested in a multi-day tour in Izu, contact us.
---
Oak Headlands Bike and Hike
Difficulty:
Strenuous
Duration: 4 to 6 hours
Hike length: 5 km (3 mi)
Bike ride length: 40 km (25 mi)
Terrain: Country roads and forest paths
Elevation gain: 600 m (2,000 ft)
Trailhead elevation: 75 m (250 ft)
Summit elevation: 90 m (300 ft)
Shade: Scarce
Accessible seasons: Year-round
Camping allowed: Yes
Departs from: Shimoda City
Guide fee: ¥3,700/person for 3 or more people, ¥5,500/person for 2 people or ¥11,000 for 1 person
Bike rental fee: ¥3,000/person
Other costs: Optional hot spring bath entrance fees (¥1,000/person)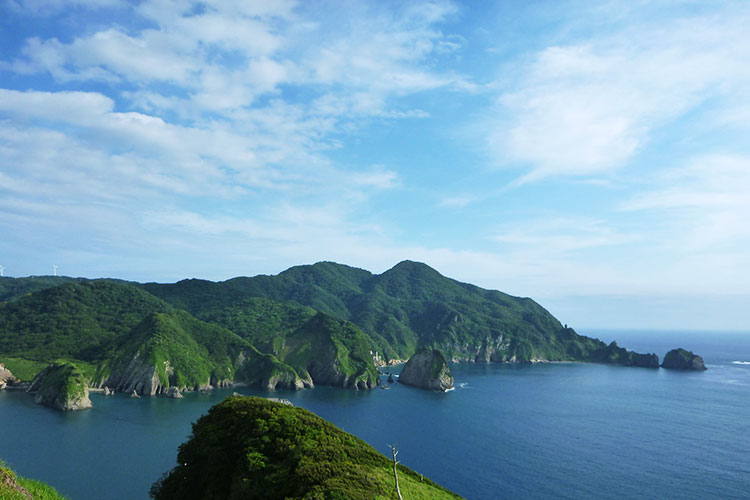 Description: A hilly ride on Izu's most remote coastline winds past aloe farms and turquoise bays where hawks are often seen circling and diving. Long biking segments on flower-lined countryside and oceanfront roads alternate with short hikes. Ascend to capes and hilltops offering outstanding views of hidden coves and distant islands. Explore verdant paths that transport you to ancient shrines and cave-dotted cliffs. An outdoor hot spring bath offers a soothing close to the trip.
Photos from the Oak Headlands Bike and Hike