We've moved!
Izu Hike's staff have moved to Fuji Five Lakes to focus on our business offering guided hikes to the summit of Mt Fuji, as well as bike tours and winery tours in the mountain's foothills. Find us there at www.fujibiketour.com.

Although we will be located too far away to continue offering Izu Hike's single-day tours, we would be happy to meet requests for multi-day hiking and biking tours in Izu. If you're interested in a multi-day tour in Izu, contact us.
---
Rice Terraces Hike
Difficulty:
Moderate
Duration: 4 to 6 hours
Length: 10 km (6 mi)
Terrain: Forest paths and country roads
Elevation gain: 550 m (1,800 ft)
Trailhead elevation: 5 m (15 ft)
Summit elevation: 300 m (980 ft)
Shade: 50% full sun, 50% full shade
Accessible seasons: Year-round
Camping allowed: Yes
Departs from: Matsuzaki City
Transportation: Bus (or car or bike, if you own or rent)
Guide fee: ¥4,000/person for 3 or more people, ¥6,000/person for 2 people or ¥12,000 for 1 person
Other costs: Bus fare (¥390/person one way to Matsuzaki)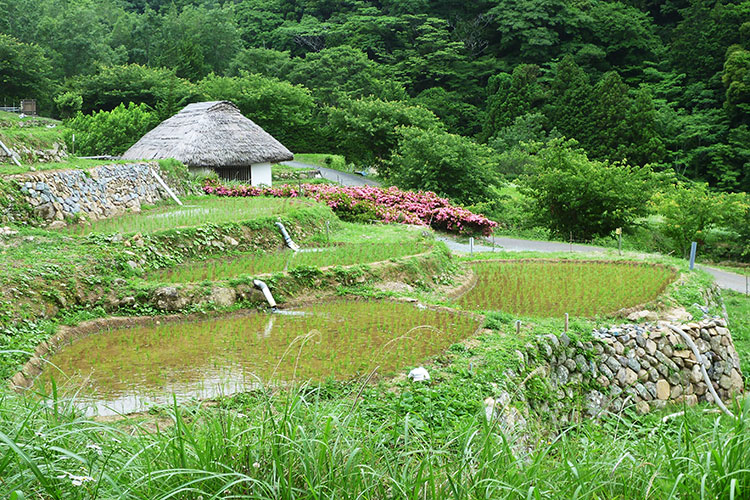 Description: Ascend a mountain trail flanked by whimsical sculptures of frolicking animals. Tread on soft beds of fallen pine needles and traverse valleys shaded by centuries-old cypress. Emerge from the forest at the crest of a bright green hillside peppered with beautifully-preserved traditional Japanese farmhouses and flowering trees. Descend past terraced rice fields and handcrafted stone walls on a meandering path that leads to a seaside outdoor hot spring bath.
Photos from the Rice Terraces Hike