We've moved!
Izu Hike's staff have moved to Fuji Five Lakes to focus on our business offering guided hikes to the summit of Mt Fuji, as well as bike tours and winery tours in the mountain's foothills. Find us there at www.fujibiketour.com.

Although we will be located too far away to continue offering Izu Hike's single-day tours, we would be happy to meet requests for multi-day hiking and biking tours in Izu. If you're interested in a multi-day tour in Izu, contact us.
---
Shimoda Overlook Hike
Difficulty: Moderate
Duration: 2 to 3 hours
Length: 4 km (2.5 mi)
Terrain: Forest paths and country roads
Elevation gain: 300 m (1,000 ft)
Trailhead elevation: 10 m (30 ft)
Summit elevation: 300 m (1,000 ft)
Shade: Abundant, with short segments in full sun
Accessible seasons: Year-round
Camping allowed: Yes
Departs from: Shimoda City
Transportation to trailhead: Train (or car or bike, if you own or rent)
Guide fee: ¥3,300/person for 3 or more people, ¥4,950/person for 2 people or ¥9,900 for 1 person
Other costs: Train fare (¥330/person round trip from Shimoda Station), optional hot spring bath entrance fees (¥1,000/person)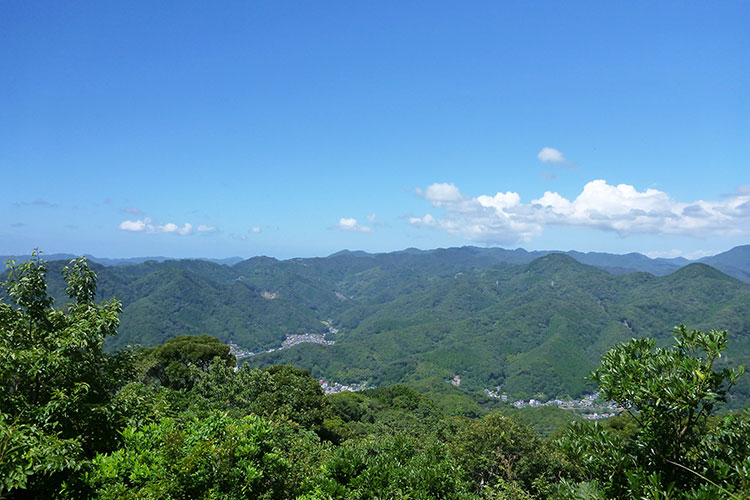 Description: Follow a traditional pilgrimage route that climbs past narcissus fields, through woodlands of bamboo, pine and cinnamon, to a rustic mountaintop temple. Enjoy a bird's eye view of the coast of the city of Shimoda, along with its stunning white sand beaches, turquoise waters and surrounding forested ranges. Ancient, moss-covered statues mark the path back down toward a vast wooden bathhouse where a dip in hot spring water relaxes body and mind.
Photos from the Shimoda Overlook Hike