We've moved!
Izu Hike's staff have moved to Fuji Five Lakes to focus on our business offering guided hikes to the summit of Mt Fuji, as well as bike tours and winery tours in the mountain's foothills. Find us there at www.fujibiketour.com.

Although we will be located too far away to continue offering Izu Hike's single-day tours, we would be happy to meet requests for multi-day hiking and biking tours in Izu. If you're interested in a multi-day tour in Izu, contact us.
---
Six Beaches Hike
Difficulty:
Easy
Duration: 2 to 3 hours
Length: 5 km (3 mi)
Terrain: Sandy and rocky coast, forest paths
Elevation gain: 55 m (180 ft)
Trailhead elevation: 5 m (20 ft)
Summit elevation: 60 m (200 ft)
Shade: Mostly full sun, with some segments in full shade
Accessible seasons: Year-round
Camping allowed: No
Departs from: Shimoda City
Transportation to trailhead: Bus (or car or bike, if you own or rent)
Guide fee: ¥3,300/person for 3 or more people, ¥4,950/person for 2 people or ¥9,900 for 1 person
Other costs: Bus fare (¥550/person round trip from Shimoda Station)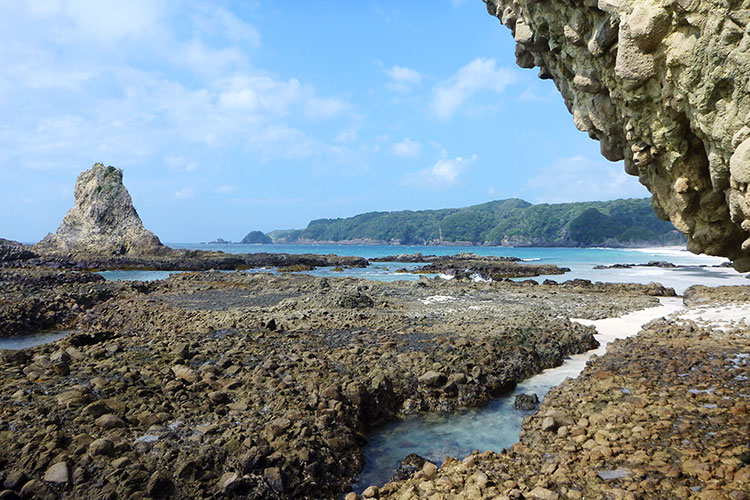 Description: Traverse Shimoda's least crowded and most beautiful beaches at low tide. Hike the rocky paths and makeshift log bridges that unite a long stretch of dramatic coastline. Lush forest trails convey you to expanses of fine sand where indigo waves deposit seashells and driftwood. Explore fields of tidepools as scarlet anemone, crab and fish play hide and seek. Izu's warm, clear aquamarine waters make a dip in the ocean an ideal way to cap your journey.
Photos from the Six Beaches Hike